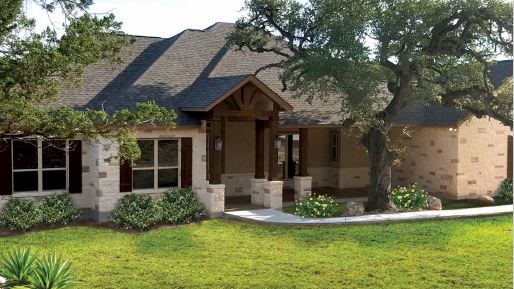 Best experience ever! I had friends tell me they'd never seen anyone as happy to work with a custom builder. Mark and his team were excellent and made the whole process stress free!
Tracy D. - - New Homeowner (San Antonio, TX)
Mark and his team of workers did a fantastic job for our family!  This home needed some updates and changes.  Mark was patient and helpful starting with the planning stages and continuing until the job was successfully completed.  His suggestions were sensible, and the quality of materials and workmanship remained high throughout the process.  Now we are so happy with the results and are enjoying such areas as a larger walk-in shower with beautiful tile work and a convenient bench.  We are proud of our "new" house and intend to seek his help in the future when we are ready to re-do the kitchen area.
Judy B. - New Braunfels, TX.
I have been around for a very long time and dealt with a lot of contractors in my life.  Mark and the professionals he employs are some of the most amazing people I have ever had the pleasure of working with. Work was done on time, each day they cleaned up before they left. A friend highly recommended Biddison Homes. I met with Mark and from that moment to the completion of our project, I could not be more pleased.  I highly recommend Biddison Homes for your next project.
Ted J. - San Antonio,TX
Mark and his crew did a fabulous job. Mark is amazing at knowing exactly what looks good in a home and how to do the best quality job at a good price. Thanks Mark! We wouldn't have trusted anyone else for the job! We are so glad you were there for us when we needed you.
Renee S. - New Braunfels, TX
I would highly recommend Biddison Homes. They did an addition to our home and I couldn't be more pleased. Attention to details.
Great communication throughout the whole process. Always had time to address any concerns we had and explain things that we didn't understand. I would say if you were looking for somebody to do a remodel , addition or build your dream home, Biddison Homes is who you want!!  We would definitely do business with them again.
Mary Kristine W. - New Braunfels, TX
It would be difficult to recommend anyone or any company any more highly than Biddison Homes. This is a company of integrity and a builder you can trust. Mark builds incredible homes, knows this industry better than just about anyone, and knows this area as only someone born, raised, and building here can. You can trust your dream home, or any home, to Biddison Homes.
James E. - Cibolo, TX.
This is not a cookie cutter home builder! The craftsmanship is top notch and the attention to detail is amazing!
Amy B. - New Braunfels. TX.
His company's workmanship on our school construction project was done at the highest possible level and at a very reasonable price. I would highly recommend Biddison Homes for any of your construction needs.
James J. - Bulverde, TX.
As a real estate professional with a background in construction, I highly recommend using Biddison Homes! If you care about quality, attention to detail and exceptional service then you have come to the right place! Mark and his team will take excellent care of you and will work hard to exceed your expectations.
Jonathon R. - REALTOR
We moved into our brand new, custom built home yesterday. It was truly a blessing to experience the diligence, professionalism and courtesy in which Biddison Homes (Mark) handled the entire building process. I didn't know what to expect to a large degree, being that this was the first custom home my wife and I have ever built, but to say that I am pleased with the results would be a huge understatement. Thank you, Mark and Bob, for everything. If you are considering building a home or remodeling, I would not hesitate for a moment to call Mark.
Nathan A. - Spring Branch, TX.
All we can say is Wow! Mark did an amazing job on our house. He listened to our ideas and made our dream home come true, and had it done in 6 mo. We are so happy to have found him. He is an amazing builder!
Jamie K. - Canyon Lake, TX.
My husband  I are so pleased with our new bathroom. Now it is much safer for us and it is 5 star quality. Thank you so much for your ideas and input. The teams you sent to us were spot on. Thank you again for the excellent work.
Glenda T. - New Braunfels, TX.
Family Room and Dining Room Renovation: Everything looks great—the workmanship is excellent, done in just two days, and I have not even seen a singe paint drip. I couldn't be more pleased.
Dana F. - San Antonio, TX
Biddison Homes just completed replacing our deck. This was a complex project because of a sunroom under the deck, which we wanted to be watertight. Mark Biddison, the owner of Biddison Homes, spent much time and effort evaluating and planning. He also got input from several of his subcontractors, who came and looked at the situation numerous times. Once Mark had a plan, he gave us some choices on some of the materials to be used and the cost of each.We made our choices and agreed on the price. The project was completed in a timely manner, and we are totally pleased with our new deck. Mark, as well as Bob (his employee), are very professional and thorough. Also, the subcontractors and their employees were pleasant and considerate. We wholeheartedly recommend Biddison Homes!
David B. - Schertz, TX.
My experience with Biddison Homes far exceeded my expectations. We remodeled our half bath and replaced our tile floors (in all of our downstairs). They moved everything out and back, even including a large storage closet under the stairs. They put up plastic tarps and kept the dust to an absolute minimum. All of his sub-contractors did exceptional work and were a pleasure to have in our home. Everything was finished to my complete satisfaction, and I will definitely use them for further upgrades in our home.
Shirley R. - San Antonio, TX.
After getting the ol' one finger salute from other "contractors" I called Biddison (Homes). I figured IF the guy showed up he would be late. But he was not. Right on time to help figure out a large addition to our house in Canyon Lake. He was here for a few hours helping us, taking pictures, coming up with ideas, answering questions, and even climbed up on our roof. He was very professional and very eager to help us. I figured it too good to be true until I asked what position he held. He then gave me his card and he is the owner. If his actions are any insight into what the construction process will be like its going to be great. Give him a call. They also do remodels and new construction. Website is also very helpful. It probably sounds like I work there, but I assure you, I do not.
Tyron L. - Canyon Lake, TX.
We can't say enough good about Biddison Homes, and the owner, Mark!  After interviewing several (8) different and local builders, we were beginning to get discouraged, and came close to backing out of building and just buying an existing home.  Then we were introduced to Mark with Biddison Homes.  A true God send!  With our very first meeting, he was upfront, honest, willing to help us figure out our budget, and very easy to talk with about our ideas for a new home.  We knew immediately he was there to help make our dream a reality, and he was our guy.  He mentioned having high standards, and exercising the highest level of integrity, which we got to witness first hand as our house was being built.  We had heard that building a house is very stressful.  We can honestly say that Mark made the process very stress free, and handled everything with class, and in a timely manner.  As someone who had never met Mark, we are grateful to have not only found a great builder, but a person who cared about our project as much as we did.  He is passionate about his business, and I would recommend to anyone looking to build to talk to Mark before signing with any other builder first.  In our own experience, Biddison Homes will stand by you, stick to their word, and provide the highest level of integrity, honesty, and workmanship.  They will not let you down.
Lance J. - - New Homeowner (New Braunfels, Texas)
As a long time realtor in San Antonio  I have had the fortune of working personally  with Mark on multiple occasions. I can honestly say that there is not another builder that I have done business with that understand the complete building process and works better and harder to meet the needs of my clients. He makes fantastic suggestions and recommendations that clearly indicates he has my clients best interest in mind. His integrity  in this industry truly sets this builder apart.  I will continue to be a huge fan of this builder.
Tommi J. - (Realtor) - San Antonio, Texas
While my wife and I were nervous about all the decisions that go with having a house built, this builder made it so easy. Our home was built with the features we wanted, within budget, and on schedule. This builder was willing to answer questions on how to get the look and features we wanted and also save money. My wife was especially happy with the help she got deciding things neither of us knew about. We have a much better home for a lot lower cost than we could have gotten anywhere else. We selected this builder for two reasons. All of the technical skills were in place AND this builder operates with high integrity. I will continue recommending Biddison Homes to others. You can't go wrong with this one.
David S. - New Braunfels, Texas
When my physician husband was diagnosed with ALS, an incurable progressive neurologic illness, we knew that our 30-year-old home would need some major modifications. I think the Lord provided Mark Biddison to think through the needed transitions, from widened doors to accommodate a power wheelchair to a state-of-the-art, wheelchair-accessible, caregiver-oriented, roll-in shower in the completely remodeled Master Bath. Mark walked us through conceptualizing what we needed, choosing materials, and scheduling craftsmen to execute the plans cleanly and pleasantly, and in a timely manner. His attention to detail took care of things we never would have thought of and he helped us through what could have been a very difficult and frustrating time. We could not have been more satisfied or pleased than we were with Mark's work and results.
Julie O. - New Braunfels, Texas
Start pursuing your dream today!
We'd love to hear from you